As mentioned before I'm going to talk at ApacheCon US 2004. So I'm just finishing packing, ready to leave at 5:45am. I think I have everything. So I thought I'd blog the lot. Nice document repository to start with on here, makes me keep what I've worked on at least.
So I borrowed the team webcam from work, not to worry, it was only looking at paul the spikey plant and this is work I'm using it for. Had a play with it before leaving work, getting a bit frustrated at it not playing ball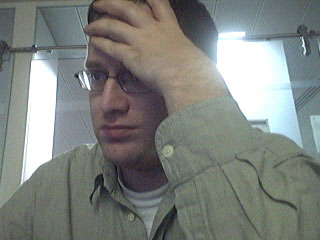 But its all good, I'm ready. I'm nervous about standing infront of all those techies; but as a few people said, you know your stuff, you're a personable presenter and therefore it should all be fine. And if i pass out then Andre is there to pick up; the engineer that did all the migration on the back end and knows all the techie bits and should manage the softer bits fine, as he was ther for my internal dry run of the talk.
oh well
Wish me luck
:-)
I'd better finish swapping stuff around between hand luggage and suitcase and go get some sleep.